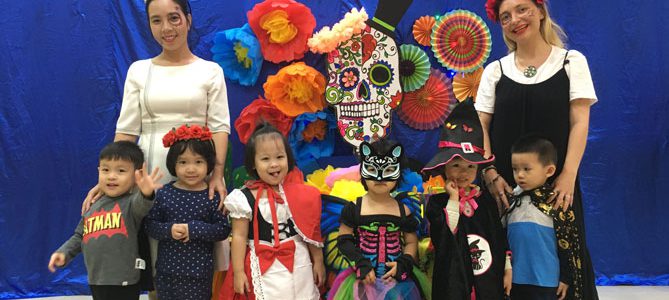 This year the teachers and children at KIK The Manor took a different approach to Halloween. We celebrated both the traditional Halloween and Dia de los Muertos (Day of the Dead). Over the last month, the children have been learning about the Mexican tradition of Dia de los Muertos. The children have learned about the food, traditions, clothing, and meaning behind this special day celebrated every year around the time of Halloween.
It was so great to see the children all dressed up in their traditional Halloween Costumes yesterday (29.10.2020) and they loved going on the trick or treat walk through the school, the children all had lots of candies to take home at the end of the day. The children participated in many different Halloween activities from STEM, art, and crafts to sensory play. They have had a wonderful two days
Today, we encouraged the children to wear the traditional colours of red, white or black clothing and costumes. it was good to see the children dressed in red white and black, some have very fancy costumes and semi-formal clothes. Today's celebrations of Dia de Los Muertos is a bright and colourful festival, celebrating the life of those who have passed on. We are excited that the children are learning about other countries' cultures and costumes and hope to continue this over the coming years.
We would like to thank all our parents, families, and children for their support this year and we look forward to celebrating different cultural events with your children. And finally, a big thank you to the teachers who have spent countless hours preparing the school decorations.
From Everyone @ KIK The Manor Hanoi Happy Halloween.